¡Bienvenido a El Tigre Wiki!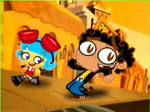 Hello new fellow! We are glad to have you as a member of the El Tigre Wiki! You may check the help pages if you need help, but feel free to leave a message on my, or any sysop's talk page if you have any questions. I hope you will be a great contributor, thank you for joining this wiki!
Hi, welcome to El Tigre Wiki! Thanks for your edit to the The Mighty Cheetar page.
Please leave a message on my talk page if I can help with anything! -- WikiaBot (talk) 18:03, 19 March 2009
Headline text