Sophia

Name
Sophia
Age
13
Gender
Female
Hair
Dark Brown
Eyes
Brown
Affiliation(s)
Mustache Mafia
Alter Ego(s)
None
First Appearence
Mustache Love
Voiced by
Grey DeLisle
Sophia is an excentric and energetic young lady. Her main desire is having someone to love and express her peculiarities with. Browsia is her single eyebrow who, like Manny's Raul, has a mind of its own. She is granddaughter of Don Baffi of the Mustache Mafia.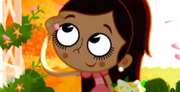 Appearence
She has long brown hair, unruly eyelashes, crooked teeth and a voice that could be heard from miles away. Her attire consists of a striped sweater, a green vest, a red skirt, and brown boots. However, when Browsia removes herself from Sophia's face, her appearance changes drastically into that of a beautiful girl with nicely plucked, smaller and separate eyebrows.
Personality
Quirky and extremely amorous, even to the point of bordering obsession.
Series
Relationships
Browsia Her female, literally single eyebrow who can move and act on her own free will. They have a very close bond, considering that they have spent their whole life together, and both seem to share a passion towards finding love.
Manny is Raul's "wingman" and agrees to go on a double date with him. Sophia soon proceeds to showcase a huge love interest in him: Feeding him, making him gifts and even attempting to kiss him multiple times. Once Raul is peeled of his face however, she finds him "repulsive".
Sophia is the granddaughter of Don Baffi, lead member of the Mustache Mafia, who seems to care about the girl to overprotective levels.