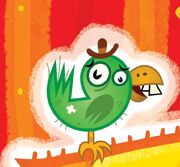 Señor Chapi is a one-legged, dirty and tired looking bird and is one of the Rivera family pets. His dialogue is usually "¡Viva Pantalones!" - but in other episodes he has said "Viva Familia", "¡Ay Chihuahua!", and "Cookie" (while he was asleep). He is Voiced by Carlos Alazraqui.
Personality
He has very little personality in the show but from what has been viewed, he does not like Manny since he "threw out his girlfriend" (an old smelly feather duster) and he hates Munincipal President Rodgrigez's pet Rooster (from the episode Animales). His favorite food is earwax and he loves his brother, the other pet of the Rivera family, Little Mule.
Canon Future
Trivia
Ad blocker interference detected!
Wikia is a free-to-use site that makes money from advertising. We have a modified experience for viewers using ad blockers

Wikia is not accessible if you've made further modifications. Remove the custom ad blocker rule(s) and the page will load as expected.