The Rivera Family is the most prominently shown family in the series. The 3 main characters are Manny Rivera, Rodolfo Rivera, and Grandpapi. This family is mostly the main plot of the show because of their differences in use of superpowers. 
History
The bloodline of the Rivera family began with El Tigre I, the first Rivera superhero/supervillain. It continued on with a series of villains and heroes as well as another undecided.
Similarities
Despite the family being different in powers and sides, there is usually one thing the Rivera family would not betray on either side: the safety of the family. Even Grandpapi as a Super Villain saves his Super Hero son Rodolfo and sometimes Hero grandson Manny because of family loyalty.
Another interesting thing that is noticed is that members of the Rivera family despise being identified as cowards, as shown in Yellow Pantera and The Grave Escape.
Members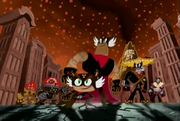 Relatives
Other Members
Pets
The Rivera family has 2 pets. One is a donkey named Little Mule and the other is a parrot named Señor Chapi.
Trivia