Party Monsters is the second half of the 6th episode of El Tigre: The Adventures of Manny Rivera.
Plot
After being Banned from the Arcade the kids get bored When Manny and Frida overhear talk of a party at an abandoned house in the desert, they think their search for awesome weekend plans is over. In fact, they're so excited they accidentally invite the whole school. But things get complicated when the "party" reveals itself to be just a weekly game night for a group of role-playing geeks and the "abandoned house" turns out to be the secret lair of the fearsome Moustache Mafia.
Episode Summary
Characters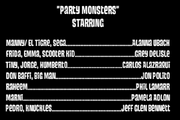 Characters Introduced
Gallery
Episode Montage Scene
Battles
Trivia/Goofs
Ad blocker interference detected!
Wikia is a free-to-use site that makes money from advertising. We have a modified experience for viewers using ad blockers

Wikia is not accessible if you've made further modifications. Remove the custom ad blocker rule(s) and the page will load as expected.