This article contains information on the character outside of super powers. For information regarding her alter ego, see Lady Gobbler.
Grandmami Aves is the grandmother of Zoe Aves, and mother of Carmelita Aves. Unknown to everyone else, she is the supervillain, Lady Gobbler.
Character Design/Inspiration
A beta picture of her in The Flock of Fury is noticeably different from her design in the show as Lady Gobbler.
Early life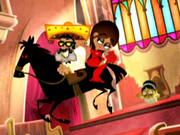 Years ago, Lady Gobbler was originally engaged to Puma Loco but on their wedding day, he left her at the altar for his future wife, and Rodolfo's mother, Dora. This act would not be forgotten or forgiven, as she continues to strive for his demise.
Trivia
Ad blocker interference detected!
Wikia is a free-to-use site that makes money from advertising. We have a modified experience for viewers using ad blockers

Wikia is not accessible if you've made further modifications. Remove the custom ad blocker rule(s) and the page will load as expected.