This article contains information on the character outside of super powers. For information regarding Carmelita's alter ego, see Voltura.
"
As if I could forget!
"

— Carmelita
Carmelita Aves is the mother in the Aves Family, who, unknown to everybody else, is the supervillain Voltura.
History
Appearance
Canon Future
Character Design/Inspiration
Nothing is currently known what inspired Carmelita's character. She however had different plans in design though, a beta picture of her The Flock of Fury is noticeably different from her design in the show of El Tigre.
Trivia
It appears White Pantera is aware of her identity as he acknowledge he broke up with her.

If this was true, it is unknown why he never told Manny about her connection to Zoe but he may not Zoe's status as a villain or just never bothered to tell.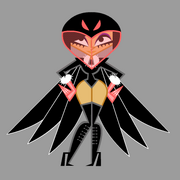 Ad blocker interference detected!
Wikia is a free-to-use site that makes money from advertising. We have a modified experience for viewers using ad blockers

Wikia is not accessible if you've made further modifications. Remove the custom ad blocker rule(s) and the page will load as expected.